History
Mountain High's roots go back to the 1970s with the formation of the "Plaza" (1975) and "Edgeset" (early 1970s) ski clubs in Portland, Oregon. In the Fall of 2000, the two clubs merged, forming the best of both worlds. The club was renamed: Mountain High in November 2003.
Today
We are a friendly group of about 300 skiers and snowboarders in the Portland, Oregon and Vancouver, Washington area. We are known as "the club that REALLY skis & rides". We have day outings to Mt. Hood, and longer ski trips. We also have year-round social activities! It's a warm & friendly club. Click for more detailed information about the club and a personal invitation to join.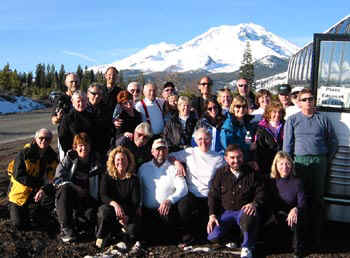 "Mystery Trip," 2003. It turned out to be Mt. Shasta
Meetings and Activities
The club has general meetings/parties about once per quarter, including a yearly Kick-Off Party in November at the start of the new ski season. Also, their is at least one social activity each month. Our main activities are:
1. Day-trips to Mt. Hood,
2. Longer winter trips to throughout the U.S. and Canada,
3. Recreational PACRAT racing program,
4. Social events throughout the year such as TGIFs, Wine tours, Chocolate Dessert competition/tasting, Pizza parties, etc..
5. Summer activities include golfing, rafting, bowling, and hiking. Families are included in the activities whenever possible.
Club info
The current club directors are shown on the contacts page. The all-volunteer board meets on the last Monday of every month to handle the affairs and planning for the club.
All members receive a monthly newsletter with detailed information on upcoming trips, events, and meetings, as well as write-ups and photos of recent club activities.
Mountain High Brochure - A tri-fold brochure about our club that you can print or simply forward to someone who might be interested in joining our club.
Mountain High - Outstanding Club 2006 - A PDF file containing a 3-page description of our club, with photos. This was our club's entry for the Far West Outstanding Club competition.
More detailed info about the club.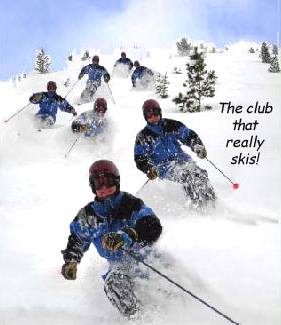 Composite photo of Nick Veroske skiing in the Cariboos
We ski, we snowboard, we have fun, both on and off the mountain!
We do mainly alpine, downhill skiing, we have a few snowboarders, a few cross-country skiers, but also a bit of golf, bowling, hiking, biking, rafting, wine-tasting, barbequing, and chocolate dessert contests!
Check out our new vision for the 21st century: Safer slopes, more fun on the trails, less speeding, shorter lift lines, attracting new people to the sport! It's on our "Vision" page.
Get on our email list; send an email to info@mthigh.org.
Use our public Forum to communicate with other club members for questions, ideas, offers, news, etc. The Bulletin Board has more colorful ads, news, skis for sale, etc.
We welcome new members, so be sure to check us out. See the Membership page to see a list of membership benefits (which change from year to year), and for instructions on how to join.
Our club is affiliated with:
NWSCC - Northwest Ski Club Council
FWSA - Far West Ski Association
NSCF - National Ski Council Federation
PACRAT - Recreational racing league

Charities

Our club has been involved for many years with the following charitable endeavors:
Highway 26 Cleanup

.

We adopted 2 miles of highway west of Government Camp, on the slopes of Mt. Hood.

FWSA Athletic Scholarship

.

We sponsor one of the racers.
Oregon Cancer Ski Out.

Hope on the Slopes

.

Mount Hood Museum in Government Camp.

Note: Mountain High is a non-profit, private membership organization with a Section 501(c)(7) federal tax exemption status.
Membership Signup form (to join the club, or renew membership) - (PDF file, 86 KB).
Membership Signup form (to join the club, or renew membership) - (Word document, 23 KB).