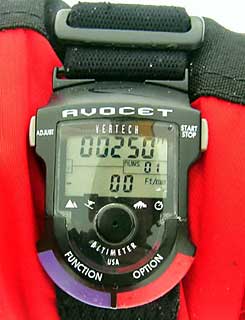 A Ski Watch for All Occasions
by Emilio Trampuz
Sept. 2007
My two old watches are both on their last leg, just begging to be replaced. One is a regular street watch, a sturdy little Casio G-Shock watch Iíve had for 20 years, water resistant to 200 meters, so I have even taken it diving without a problem.
The other is an altimeter watch, a discontinued Avocet that I use for skiing, because it automatically counts the number of runs in a day and the total vertical feet. There is a newer, Avocet II on the market now, with a longer-lasting battery. These are still the most skier-friendly watches. One big problem is that they are not meant to be worn on your wrist as an everyday watch, and they are not very water-proof. Sure, the will resist a bit of rain, but don't go swimming with it.

But, rather than buying two new watches, wouldnít it be great if there was a single watch that can do it all? A watch I can take everywhere, both diving and skiing. I donít want to leave an expensive watch unattended on the beach, or on the boat, when I go diving or snorkeling. Instead, I want a sturdy but elegant watch that I can take everywhere with me.
Ideally, here are the features we'd like to have in a real skierís watch:
1. Timepiece, to simply tell time.
2. Alarm, to wake us up in the morning.
3. Countdown timer (so it beeps after, say, 5 minutes, to time an event and warn us when time is up.
4. Stopwatch, so we can time events that we donít know how long they might take.
5. Altimeter, to tell altitude, number of runs skied, and total vertical skied.
6. Barometer, to provide an insight into weather trends and warn me of an incoming storm.
7. Compass, to tell us where north is.
8. Clinometer, to tell you how steep the slope is (in degrees), and also to calculate the true ground speed. If you know how much vertical you descended in a certain amount of time, and you know the slopeís average angle, itís simple trigonometry to calculate the actual ground speed in miles per hour, and the formula is built into the watch, so it does it automatically.
9. Solar powered, so you donít have to change batteries every few years, when you least expect it!
10. Water resistant to 200 meters, so you can take it everywhere. Weíll never dive that deep, but the watch needs to be truly waterproof. When you swim and splash around, the pressure on the watch is a lot higher than it is if the watch is just sitting at rest at a certain depth. Water resistant to 100 meters is not enough.
Does a watch like this exist? Well, almost! All these features are already available, but not yet in one single watch. Beware! Many watches have altimeters that can tell you the altitude, but do not provide cumulative totals or the number of runs. Some watches, like the Casio Pathfinder PAG80, claim they keep track of cumulative ascent or descent, but what they mean is that you have to start a new "session" by clicking a button every time you begin another ascent or descent. That's a cumulative total suitable for climbers, not skiers.
Some Casio and Suunto watches come close to perfection, but each misses some important feature. See the pros and cons below. Write to either or both of these manufacturers and let them know that millions of skiers are just waiting for a watch with all of these features.

Tell Casio we need simple skierís cumulative totals.
Tell Suunto weíd like solar powered watches.
Tell both of them we need a 200 m. waterproof watch.
$75
Casio G-Shock G2300-9V

Sturdy, but no ski features.

PROs: Shock-resistant, water resistant to 200 meters. Solar powered, recharged by any light source, works for 6 months in total darkness.
CONs: No ski features in any G-shock models. No altimeter. No compass.

$199
Casio Pathfinder PAG80

Lots of features, but not for skiers.

PROs: All Pathfinders are solar powered. Has a Compass and Altimeter.

CONs: It's big. Mediocre water resistance (100m). Records too many details, graphs, sessions , but no simple cumulative totals (number of runs, or vertical skied).
$232
Suunto S6

Best skiers' watch, but not sturdy or solar. Connects with a computer so you can save your complete skiing history. This is probably overkill, not really needed by skiers.

PROs: Best ski watch so far. Total runs, vertical & ground speed. Has a Clinometer and a Compass.
CONs: Too plain looking. Jagged display. Too many features, graphs, computer connectivity. Water to only 100m. No solar power.

$250
Suunto Core

New for Sept. 2007, Simpler than the S6. Has no computer connection, but it does have the skiers' essentials.

PROs: Simpler than the S6. Has cumulative totals, but no graphs & no PC connection. Has a Compass and Altimeter.

CONs: Water resistant to only 30 meters (the worst of the bunch). Rain is OK, but donít swim with it. No clinometer. No solar power.
NOTE: Most Suunto watches have the following two problems:
1. The alarm on Suunto watches may not be loud enough to wake you. This may have been done on purpose. A weaker alarm means the battery will last longer.
2. Replacement wrist bands for Suunto watches are expensive.
WHAT TO DO
If you want that perfect ski watch, send your desired list of features to both Suunto and Casio. Ask them to forward your email/letter to those in charge of designing new watches. Compliment Casio on their solar powered watches, but ask them why they are so completely ignoring skiers and snowboarders. There are more skiers and snowboarders in the world than there are mountain climbers.
Casio: Casio America, Inc.
570 Mt. Pleasant Avenue
Dover, NJ 07801.
Phone: 800-634-1895.
Web site: http://www.casio.com/home/
Feedback contact form: https://www.casio.com/support/contactus/feedback/
Email: watches_cms@casio.com.
Suunto: Suunto USA, Inc.
2030 Lincoln Ave.
Ogden, UT 84401.
Phone: 800- 543-9124
Web site: http://www.suunto.com/suunto/main/index.jsp
Feedback: http://suunto.custhelp.com/cgi-bin/suunto.cfg/php/enduser/ask.php
Email: helpdesk@suuntosports.com.